We are busy getting ready to start our children's creative ballet classes on Thursday 20th April at Sutton Benger Village Hall. This term has some exciting ideas and inspirations to get us going. We are going to be basing the classes for the summer term on ideas around flight, inspired by stories of butterflies and birds both real and imaginary.
As well as introducing and working on ballet technique and movements, each class is built around a children's story. We use the stories to help children embody movement concepts as well as provide material for learning choreography and for the children to create their own movements and dances.
The stories we are using this term include: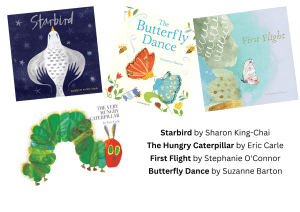 If you have not booked a place in our classes yet we still have spaces available.
Ballet Prep: 3:30 – 4:00 pm (app ages 3 – 5 years)
Ballet Mode: 4:00 – 4:30 pm (app ages 6 – 7 years)
Ballet Tech: 4:30 – 5:10 pm (app age 8 – 10 years)
Ballet Form: still to be confirmed (app ages 11 and up)
Classes are held at Sutton Benger Village Hall on Thursday afternoons during term time startin Thursday 20th April.
Follow this link for more information on our classes.  If you have any other questions you can email Rachel at [email protected] or send a message via our contact page.
Click on this link  to sign your child up for a class.